Review of Wolverine v.3.0, Soma Fabrications
"Let's build a bike," he said.
We know what he meant, a bicycle that he can lean upon like those summers before and the summers after. A bike that he will ride city streets upon then those lonely paths that were once roads.
There will be Western adventures along mountain trails, canyons, and plateaus. Always at night a fire at camp will illuminate those tired, satisfied faces. There will be those odd free afternoons in which a local single track will be tackled. He will be much torn to drive to the trail head only to ride out instead. Shan't miss out on that fun.
This lanky chap will appreciate the "just right" stem and the crank arms that are just that bit longer to suit his build. Every detail, to numerous to list, has be thought through, anticipating those adventures that lay ahead.
A bicycle is more than just its frame it's the sum of parts, each tuned with the other in order to create a reliable machine. Observe the balance of comfort and performance. But this is much more, it's a vehicle built to suit the mood of this time.
A bike for all seasons a bike for all conditions a bike to journey with.
Yes I think you are right a Soma Wolverine will do quite well.
The Lowdown
Highlights
Paul's Components Klamper brake
Your brakes system, so integral to your safety, should be simply reliable. Not too much to ask no? Preferring to avoid the whole mess of air pockets the line or other detrimental kinks that can occur in a hydraulic disc set-up we recommend Paul's Klamper mechanical disc brakes. The precise engineering that stands behind the Klampers is just the solution we desire.
This be-spoke wheel set features durable American made rims and a German manufactured rear hub. Rohloffs are hand built internally geared hubs that are incredibly durable. Outlasting any drive train they are suitable for cyclists that prefer convenience or for cyclists that ride their bicycles incredibly hard. Impervious to snow, sleet, ice, or sand we look forward to any weather and all road conditions with our Rohloff hubs.
White Industry Crank set
Doesn't everyone find the White Industry cranks sexy? Machined in California by a crew that cycles, these cranks are an industry standard that look great, offer versatility and perform year after year season after season.
Phil Wood Bottom Bracket
When you are planning on riding up and down mountains a solid bottom bracket will hold it all together. Phil Wood is the brand we turn to for solid, durable components.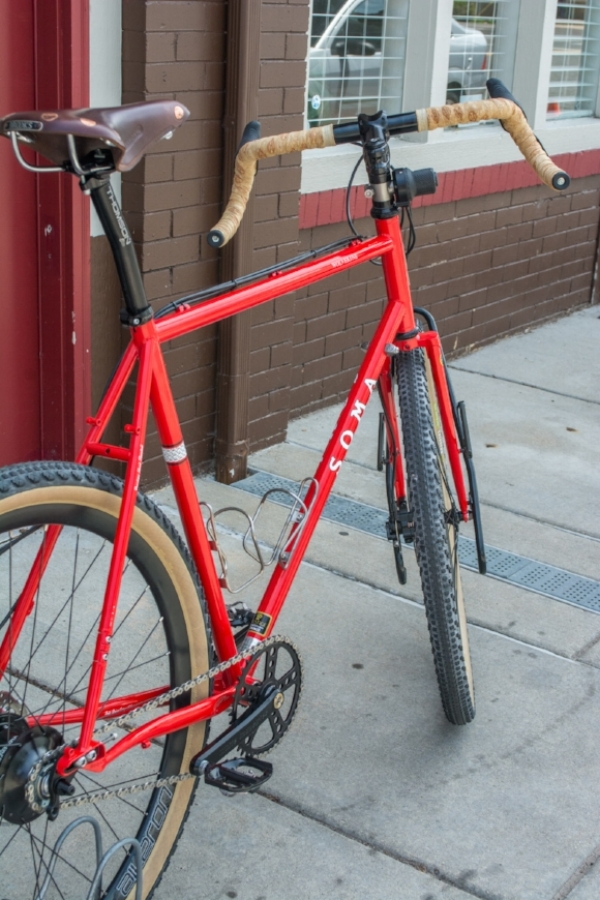 It was an honor working with our neighbor in order to build his new bicycle. We are anticipating performance reports back this summer.
It was a total blast with Mr. W. I think we succeeded in building a bike that suits his riding style and that will live up to his biking plans. His performance reports back will be a treat to hear.