How to Choose a Bike
The joys of Purchasing a new Bicycle
When new-bike shoppers drop in to check out our inventory I often ask "do you currently own a bike?" I need to know your pain before I can offer any recommendations. Sometimes it's just a matter of fixing what you own. Ethan, the Queen City mechanic/owner, has an uncanny ability to keep bicycles rideable well past their due date. As our conversation progresses it may become apparent that indeed a new bicycle is in order and I can describe the options that our shop offers. Typical talking points are:
What kind of riding do you want to complete, over what kind of terrain?
How many miles do you plan to accomplish on each ride?
What are your concerns regarding maintenance and safety?
Choosing a Bike Shop in the Front Range
Finding a shop that is convenient to your home or work is important but even more significant is finding a shop that is able to listen to your needs. Bike shop owners and employees are enthusiastic about cycling yet cycling can be defined in many different ways. Cycling for some people may be about competition and speed, for others it's about socializing, and for others it's just about getting to work. Find a shop that talks your language.
Ask questions
There is nothing that a bike shop employee likes to talk about more than bicycling; this is why we're here. We genuinely want everyone we meet to enjoy the sport as much as we do, expect enthusiasm. If you have questions ask, we will probably have an opinion to share. I honestly believe that a new bicycle purchase aids many ills. If a new bicycle will indeed benefit your lifestyle you might be curious about prices. Generally expect:
Low end bicycles cost 0-$450
Mid-range bicycles cost $450-1000
High-end bicycles cost over $1000
Custom builds cost over $1900
Wow, this brief guide on how to purchase a bicycle has morphed into the question on how to choose a bike shop. Ultimately the bicycle shop you choose to patronize will be the shop you will depend upon for;
Solid bike assembly. Ethan assembles all of the bicycles that we sell, let me clarify, he meticulously assembles all of the bicycles on our sales floor.
Proper bike fit. Fit is personal and it may evolve as your fitness level changes.
Appropriate accessories. We specialize in urban commuting and bicycle touring.
Mechanically Ethan works on all bicycles. Inventory-wise we sell city-appropriate bikes which fit the neighborhood in which we live and work in.
Individual, Custom, or Bespoke Bicycles
We also build custom bikes utilizing steel frame sets. Shopping for a new custom bike is much of the same process as shopping for a new bike except we are going to get a little more personal with you. For a custom build I will measure you (or your frame set) in order to determine which bicycle fits your body type and then there will be a few conversations about your expectations. These conversations will provide us with the basis for offering good component recommendations. Here is a Soma Fabrications's Double Cross bike that we recently built for a neighbor.
We left room at the top tube so our neighbor can ride his new bicycle for a few weeks before determining how low he wants to place his handlebars. He may like this height or he may choose to lower the handlebars. A custom fitted bicycle is a process.
At Queen City Cycle we are open year round for sales and service. Stop by to chat about your city cycling experiences or just to see what's new. 303-561-3025.
Shop Hours:
Monday: 10-6
Wednesday-Saturday: 10-6
Sunday: 11-4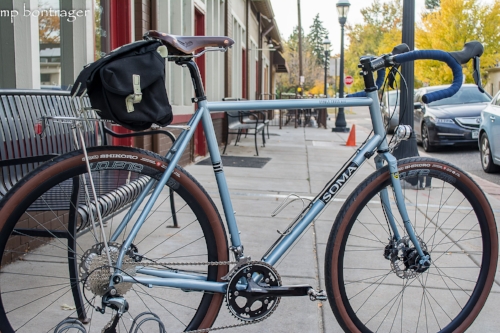 features a dynamo light system, Japanese components, and hand built wheel set.
Lugged fork
Bespoke wheel set, Velocity Aileron rims and Shimano hubs
Shimano drivetrain and disc brake set
Shimano Alfine dynamo hub
NITTO rear rack
Carradice Saddlebag with quick release hardware
King Cage
Front light, Schmidt's Edelux
Rear light, B+M Toplight Brake Plus*
*for extensive information about dynamo light systems check out Peter White Cycles.
P.S.
funky sites that entertain me now:
bikey face gets it! Cycling in the city? follow her art: http://bikeyface.com/
Silly fun, imagining myself cycling with one of these guys: http://www.ilovebicycling.com/celebrity-cyclists-who-love-cycling/
OMG I am in awe of this young woman's journey through Africa: http://somafab.blogspot.com/